About Flatrock Mountain Demonstration Forest
Flatrock Mountain Demonstration Forest is a 512-acre tract of land owned by the Northeastern Loggers' Association (NELA), situated around 6 miles south of NELA's office in Old Forge, NY.
NELA's mission for the property, located within Adirondack State Park, is to:
Demonstrate the value of sound forest management through biologically and economically sustainable harvests. These harvests, conducted by professional logging contractors, conserve wildlife habitat and natural resources ensuring public recreation, education, and interpretive uses for years to come.
Timber Harvesting
Over the years, several timber harvests have taken place to meet the aforementioned goals. A harvest on a parcel of land on the xxx northeast? side of Flatrock Mountain was conducted in the summer of 2014, with the goal of removing beech and creating a residual stand of maple and yellow birch.
The most recent timber harvest took place in the summer of 2022, with similar goals to the 2014 harvest. A shelterwood harvest took place on a 28-acre stand on the south slope of Flatrock Mountain. The harvest focused on understory beech removal, with select mature saw timber cut to cover the costs of removing the low-grade timber. Birch was left (released) a seed source.
---
Hiking and Outdoor Recreation at Flatrock
The public is encouraged to make use of the property through hiking, hunting, cross-country skiing, and other recreational outdoor pursuits. A marked 2.2-mile loop trail from the xxx parking area winds its way through the demonstration forest to the top of Flatrock Mountain. It's a moderately difficult climb with some good views from the top. There is a kiosk and signage located at the main entrance of the forest.
In contrast to Flatrock, across the road is a trailhead into the 26,600-acre Ha-De-Ron-Dah wilderness area managed by New York's Department of Environmental Conservation (DEC). A network of hiking trails runs through this area composed of rocky hills, forest, and wetlands to several ponds and lakes. NELA sees the physical proximity of these two forests as an opportunity to educate the public about the differences between managed forests and to wilderness areas and other "forever wild" forests existing within the park.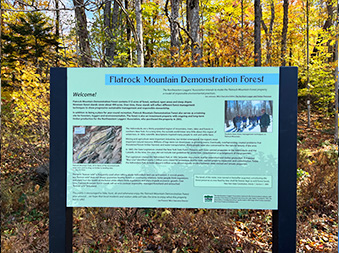 • Established 2002
• 512 acres
• 2.2-mile hiking trail
• Mixed forest of yellow birch, beech, hard and soft maple, black cherry, ash, red spruce
Moderate difficulty
2.2 miles