Canopy Timber Alternatives Finds Opportunity in Global Economy
By Erin Kessler
The log and lumber market has expanded and has experienced some tumultuous times over the last 15 years or so. In the years before 2008, some would say domestic log markets were marching along relatively well, that they were even "healthy." Then the Great Recession forced log sellers to find new markets – one of which was the export market. Although log exporting had certainly been going on at that time, breaking into it seemed difficult and complicated. Few had access. But savvy entrepreneurs found a way in if they took the time to figure out the logistics, follow markets, and build relationships.
One of those entrepreneurial individuals is John Anderson. Anderson began his career in the forest industry as a horse logger, but the daily, physically strenuous work became unsustainable, especially after starting a family. He started transitioning out of horse logging in the early 2000s, buying stumpage and subcontracting multiple logging crews for harvesting. He needed a yard to store their logs, so in 2004, he bought a defunct log yard south of Middlebury, Vermont, and created his company, Canopy Timber Alternatives (Canopy TA). That's when Anderson began scaling logs and building loads for shipping. The activity generated interest from other loggers, and eventually, after some initial resistance, he began buying from them, too. At first, he sold nearly 80 percent of his inventory in Vermont. During the economic crash of 2008, local markets froze but other markets sprung up in Canada, China, and beyond.
On a chilly, rainy day in May, The Northern Logger paid a visit to Canopy Timber Alternative's Rockingham location in southern Vermont. (The company has four yards – three in Vermont and one in Maine.) John Anderson, his son Iver (a junior in high school), and yard manager Garry Welch were on site, assessing inventory during the mud season lull while rain halted new deliveries. Most of their recent acquisition of export logs had already been shipped from the yard to a debarking facility in southern New Hampshire but there were still some partial loads waiting to be completed. One was a selection of white pine destined for Pakistan. A nearly complete sort of ash was headed to China. Anderson doesn't have a debarker on site, but it's been a topic of discussion for a while. "It's something we've thought about over the years but haven't pulled the trigger yet. Half because we are kind of all hoping that the debarking thing goes away and it's no longer a requirement… we're waiting to see what develops," says Anderson.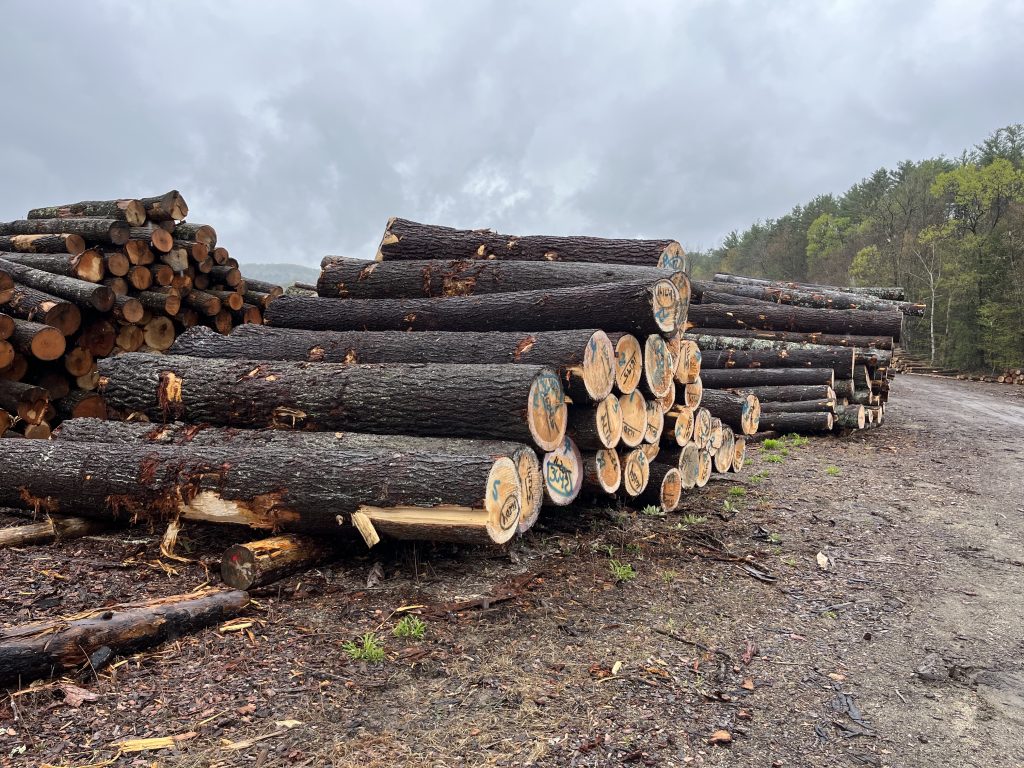 In April of 2018, China began enforcing its phytosanitary regulations in earnest, requiring all logs coming from the US and elsewhere to be either debarked or fumigated. China is the main country that requires either fumigation or debarking (Vietnam, for example, doesn't). To prevent invasive species from transferring, you either have to take all the bark off the log or fumigate, which is more expensive than debarking. The only fumigation facility nearby is outside the New York port. Before COVID, Anderson says that they used to fumigate much more. Trucking to New York became unfeasible during the pandemic due to a lack of drivers for the number of goods needing to be shipped.
Before these regulations, the logistics of exporting a container of logs to China were easy. Anderson and his yard crews were loading numerous containers directly from the yards each day.
"I would say five or six years ago, if I got one load of any product tagged and ready to export, I could make a phone call or send an email and within 36 hours we'd have a can from the Port of New York here. We would load it and just send it down the road," says Anderson. Today, because of the phyto regulations, the lingering effects of COVID on the supply chain, and inflation, things have changed drastically. There are five or six additional steps. Canopy TA now loads one-tenth of its export logs into shipping containers directly from its log yards. The rest must be sent away on trailers and is put in containers after debarking.
New York containers are just now becoming available again after a very long time, but the ground freight costs have almost tripled. "The Boston port is more realistic, but Boston has other difficulties."
Canopy TA is starting to fumigate again – all veneer loads – as typically veneer customers don't like to have their product debarked, especially in summer. Taking off its protective layer compromises the outside of the log. With the bark intact, you can get more yield. One of Canopy TA's customers buys ash veneer in the wintertime debarked, but now that winter is over, the shipments will be fumigated. The customer pays a premium for this.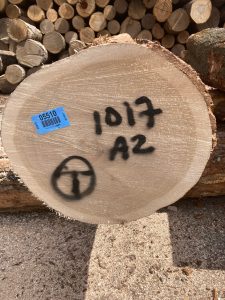 Despite all these extra steps and headaches, the export log market remains viable and very important for companies like Anderson's. It also provides a diversity of markets for loggers and other suppliers in the Northeast and – as we are all well aware – diversification is key to survival for any wood products business. For Canopy TA, export is just one facet of the business, supplementing the North American market. The company resells domestically, sends logs to Canada (which is not considered "international"), and exports to countries in Europe and Asia. Anderson estimates that his sales volume is evenly distributed; around one-third domestic, one-third to Canada, and one-third to overseas markets. A lot of the pine stays in the Northeast. Spruce is also sold domestically but a lot goes to Canada, along with hemlock. Much of the hardwood goes overseas, especially log run and veneer ash, and red oak.
"Anyone who is trying to do what we do, if you're not exporting, there is no way that you are doing your best job and there's no way that you are providing your suppliers the most opportunity and outlet for your products. It adds a lot of diversity to your marketing opportunities if your exporting," explains Anderson.
Garry Welch, Rockingham's yard manager, recalls a time in his 27-year career working in log yards when mills would get all the product that they needed by the first week in February. Then they would slow things down, putting suppliers on quotas, saying that they had enough to get them through summer. "If it wasn't for all these other outlets then I'd say a lot of the loggers would be working about three months of the year," Welch says.
Anderson remembers this situation from his logging days. "It's February when the guys are just getting going with production, and the only way we made any profit is with volume, which stymied the whole operation, and for many years that was the case." For him, the most important reason for export: "It increases the volume that you can move by manifold. We are not an 'export company,' we don't say export is better than domestic or better than selling to Canada, it just adds a great layer to the whole industry."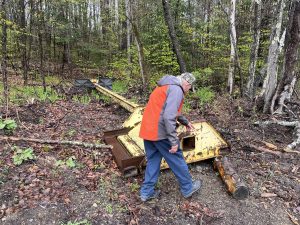 As anyone who conducts a reasonably successful business endorses, relationships are important. Since the start of Canopy TA's export arm, Anderson has built many longstanding relationships with brokers and log buyers from different areas of the world. Some have lasted over 15 years, since he started exporting in 2008. Some relationships work and some don't, says Anderson, but he's had very few instances where things didn't work out. In the industry, companies can make claims (as for money back) if they feel what they received doesn't meet the specs that they requested. "A big part of having good relationships is they trust you to select the product that they are paying for so that they don't have those issues," says Anderson. For some of the logs in the yard marked for export, buyers determine the grade, and it's not a problem for Anderson to understand and make those selections.
Relationships with suppliers are just as important as those with buyers. Canopy TA used to update its price sheet twice a year, once in May and once at the start of hunting season in November. These days, price sheets get updated around once a week online, as markets fluctuate constantly. It's extremely important to keep suppliers informed, but they also understand it changes a lot. Anderson states, "I think people know now that prices change more frequently – often people call saying 'I saw these prices last week, I've got some oak, is the price still the same?'"
Keeping up with ever-changing market prices, trends, international regulations, and communicating with hundreds of buyers and suppliers is challenging and requires a lot of desk work.
That means time away from where Anderson would rather be: outside in the woods, or in the yard grading and scaling. But the template works, and he can see continuing this way for as long as possible and expanding in the future. ♦