Local Species Cross-Laminated Timber
Nearly Commercial in the Northeast
By Charles Levesque
We've been hearing a lot about "mass timber" lately, and for good reason. This building technique, which uses glulam beams and cross-laminated timber, is starting to take hold in the commercial building field. Mass timber is much more carbon friendly – replacing traditional concrete and steel – and can often compete on price partly because the construction phase for this technique is so much faster than concrete and steel. Think prefab. And now with new building codes being adopted across the US mass timber buildings can be up to 18 stories tall.
So what about the northeastern US?  The demand side is moving along nicely. According to Woodworks (www.woodworks.org) there are 54 commercial mass timber buildings built or under construction and another 88 in design in the Northeast. Nationally there are over 1500 built, under construction, or in the design phase.
What about using local timber for mass timber buildings in this part of the country? The challenge with this is that to date, there are no mass timber manufacturing plants in the northeastern US (except for the Unilam glulam plant in New York State – but they are not using local timber yet). As a result, although there is a sharp increase in mass timber building in the Northeast, most of that construction is using timber from western Europe, the southeastern US, the West Coast, or eastern Canada where there is one manufacturing plant.
The project described in this article is designed to get local species commercialized for mass timber, eventually leading to a mass timber manufacturing plant in the Northeast.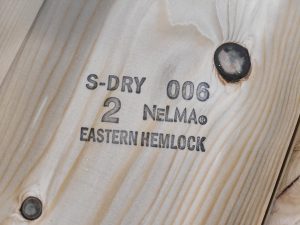 Mass timber uses structural softwood species. The two northeastern species groups that are most likely to replace the aforementioned more distant sourced species are eastern hemlock and spruce-fir. A project to bring eastern hemlock CLT to market is nearing completion. This project was funded by a grant from the USDA Forest Service Wood Innovations grant program to the North East State Foresters Association, and in partnership with the University of New Hampshire, State of Massachusetts, University of Massachusetts, and two building developers. An-add on project is also going to bring northeastern spruce-fir to the market as well.
Sourcing Hemlock Lumber, CLT Manufacture and Testing
Before a species of timber can be used in commercial buildings as mass timber it must undergo testing and certification under the ANSI PRG-320 standard. Once it is certified, through a rigorous set of tests at specialized laboratories, the species will be deemed strong enough for various applications – meeting at least a minimum in the various tests. The tests essentially involve bending and breaking actual pieces of the CLT in massive machines and measuring the strength characteristics through the testing.
"There is no manufacturer of eastern hemlock in the Northeast that can readily supply large quantities of dried, planed, and graded hemlock. For this project, we enlisted several sawmills: Parker Lumber from Maine, White Mountain Lumber in New Hampshire, and Cersosimo Lumber in Vermont.  All played a critical role in sourcing the hemlock. "
Two CLT manufacturing plants have been part of this project.  For the hemlock portion, the SmartLam CLT and glulam plant in Dothan, Alabama has been the manufacturer. For additional hemlock testing and the spruce-fir portion, it is the Sterling plant in Phoenix, Illinois. Hemlock is not generally manufactured or sold in the form needed for CLT or glulam beams. It is usually sold green, rough, and not graded. In order to do the testing and manufacturing for actual use, the lumber needed to be dried, planed, and graded as #2 or better with some opportunity for use of #3 grade in the short dimension of the CLT.  There is no manufacturer of eastern hemlock in the Northeast that can readily supply large quantities of dried, planed, and graded hemlock. For this project, we enlisted several sawmills: Parker Lumber from Maine, White Mountain Lumber in New Hampshire, and Cersosimo Lumber in Vermont.  All played a critical role in sourcing the hemlock. Cersosimo also provided the drying, planning, and grading services in addition to some green lumber from their Brattleboro, Vermont facility. All of this occurred in 2022.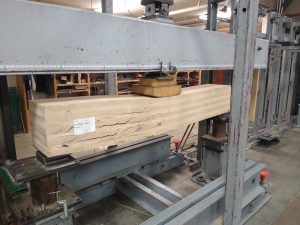 Generally, CLT is made from 2 x 6 stock and sometimes 2 x 8. Once the hemlock material was finished and packaged in Brattleboro, it went to the SmartLam plant in Alabama for CLT manufacturing for the testing phase. Some individual hemlock 2 x 6 stock was tested at the SmartLam plant but most went on to the APA testing plant in Tacoma, Washington.
The APA testing and certification was rigorous and ultimately the hemlock passed all the requirements of the PRG-320 standard. Coming out of this testing regime is a set of design tables that show the actual strength of the species. We learned that hemlock is slightly less strong than spruce-fir but meets the PRG-320 standard requirements. Work in 2019 by Dr. Peggi Clouston at the University of Massachusetts with eastern hemlock and eastern white pine confirmed that.
Using Eastern Hemlock CLT in Commercial Buildings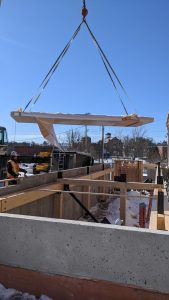 Phase II of the project – using hemlock CLT in a commercial building application – is well underway and will be completed in 2023 in two commercial buildings in the Northeast. SmartLam in Alabama has been the manufacturer of the CLT again with lumber sourced from White Mountain Lumber and finished at Cersosimo Lumber. The first application is in the addition being constructed at the Fairbanks Museum in St. Johnsbury, Vermont, as this is being written. The second building will be in a five-story mixed commercial and residential structure in Somerville, Massachusetts – a building named 154 Broadway by the CMD Construction Managers and Developers. This construction will take place beginning in the spring of 2023.
Spruce-Fir Added to the Species Mix
With PRG-320 testing that will soon be completed at the University of Maine lab with northeastern US hemlock and spruce-fir after manufacturing at the Sterling Structural CLT plant in Phoenix, an ongoing manufacturer nearer the Northeast will be available to manufacture CLT from these local species for building projects.
All the partners in this project have been critical to the success in commercializing northeastern timber species for use in mass timber construction. The demand for mass timber for commercial structures is expected to continue to increase as developers, architects and builders learn the many benefits of using local timber-sourced mass timber in their construction projects. This USDA-funded project brings us one step closer to full commercialization.
Charles Levesque is President of the northeast-based consulting firm Innovative Natural Resource Solutions, LLC and also the Executive Director of the North East State Foresters Association (www.nefainfo.org). He would like to thank his partner for this project, Andy Fast of the University of New Hampshire Cooperative Extension for all of his guidance and work in the effort.